Our AI-driven software tools support early detection, differential diagnosis, prediction of progression, and patient monitoring in memory disorders.
Watch a demo of cNeuro cDSI
cNeuro® cDSI, our cloud-based software, supports the clinician in the challenging work of analyzing the large amount of data required for confident decisions around patient care. By combining key patient data from multiple sources, cDSI provides clinical decision support for early, differential diagnosis; prediction of disease progression; and decisions about what testing is needed in patients with neurodegenerative diseases.
Access and review key patient data in one location
Review and assess relevant patient data, including demographic and clinical data, neuropsychology test results, imaging findings, and biomarkers, all presented in a compact, intuitive view.
Clinical and neuropsychological tests
Validated cMRI imaging biomarkers
Diagnose earlier and with greater confidence
cDSI integrates multiple sources of patient data and compares the findings to a large database of previously diagnosed cases, providing a quantitative estimate (the disease state index) of the patient's similarity with different disease groups. This not only improves the consistency of neurological interpretations but also provides information about which disease is the most likely diagnosis using intuitive, interactive visualizations.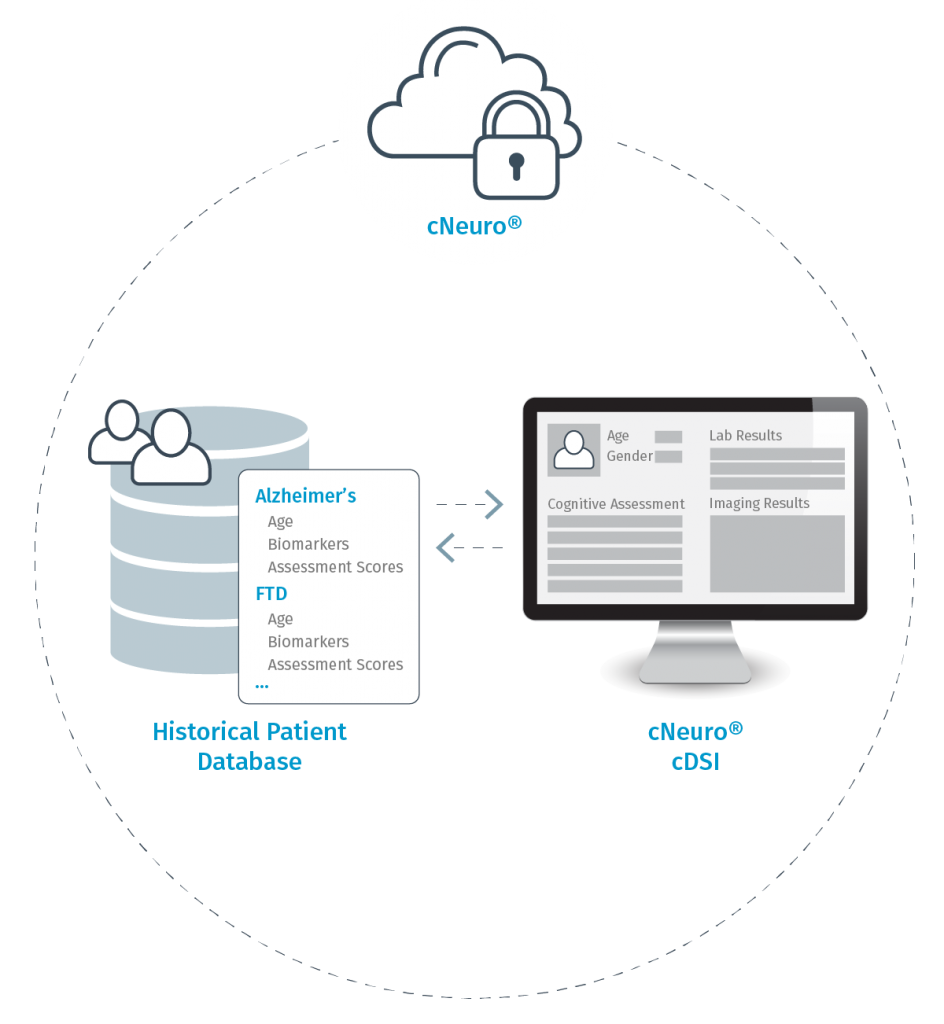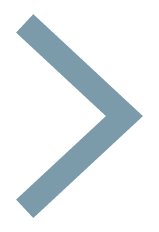 Data-driven Differential Diagnosis
Data-driven Differential Diagnosis
Use decision models for diagnosis
Decision models are available for Alzheimer's disease (AD), frontotemporal dementia (FTD), vascular dementia (VaD), and cognitively normal (CN).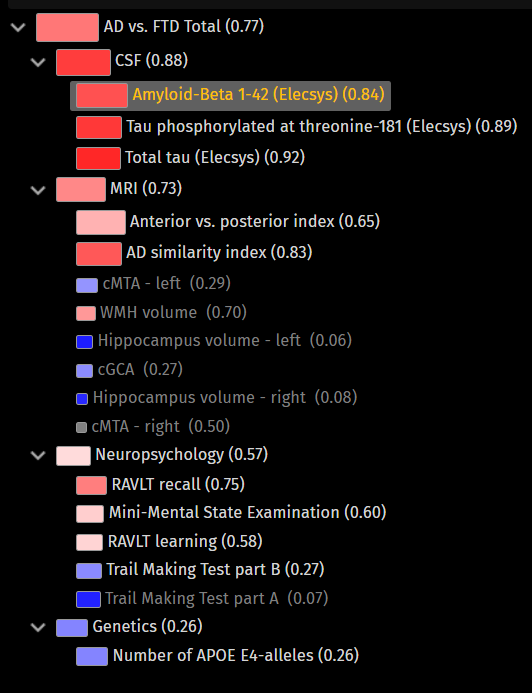 Disease state fingerprint model comparing AD and FTD. red = AD, blue = FTD

Decision model for etiology showing the highest similarity to FTD.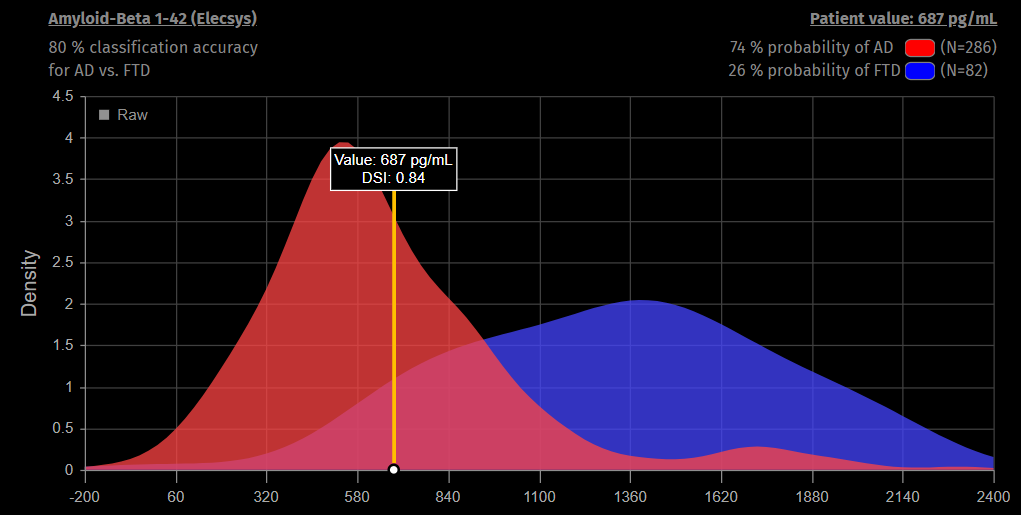 Distributions of beta-amyloid CSF biomarker in AD (blue) and FTD (red) groups and the value measured for the patient (yellow).
A study showed that our computer-supported prediction reduces CSF testing to only 26% of cases, without compromising diagnostic accuracy.
CE marked and excluded from the definition of a medical device in the U.S based on section 520(o)(1)(E) of the Food Drug and Cosmetic Act.
U.S. Patents
No. 7,840,510 and 10,372,786
cNeuro® cDSI is intended for use by health care professionals to aid in diagnosing patients with a suspected neurodegenerative disorder. Patient parameters and test results are entered manually by the healthcare practitioner or retrieved through integration with other hospital systems. The device suggests whether the patient's condition meets the definition of different neurodegenerative disorders through a comparison of the patient's data with data from patients previously diagnosed based on established guidelines. The software is intended for the purpose of enabling healthcare professionals to independently review the basis for such recommendations. It is not the intent that the healthcare professional relies primarily on the software's recommendations to make a clinical diagnosis or treatment decision regarding an individual patient. Patient data may include biomarkers from cerebrospinal fluid and imaging, as well as results from various neuropsychological and clinical tests. The intended user profile covers healthcare professionals who work with patients being evaluated for a suspected neurodegenerative disease. The intended operational environment is an office-like environment with a computer.