It's hard to believe it's already been a year since we attended
RSNA 2021
— and what a year it's been! Here are some things that we've celebrated over the past year:
And perhaps the most exciting development for us
was our
Dementia Differential Analysis report
, which offers true differential diagnostic support for dementias and can support radiologists in providing additional value for referring neurologists.
As the only company providing a complete imaging AI solution that goes beyond neurological image quantification to support the entire patient care pathway, we're excited to share our platform and solutions at RSNA 2022!
We provide evidence-based, trustworthy information for the entire patient care pathway.
Our platform adds value to radiology practices by enabling earlier detection and faster, more efficient diagnostic support of neurological disorders, based on our analysis of unique biomarkers and comparison of results against an extensive database of reference data. For neurological diseases such as dementia, multiple sclerosis (MS), traumatic brain injury (TBI), and epilepsy, our platform assists radiologists with:
There are multiple challenges faced by radiologists and clinicians that AI solutions are equipped to help solve. One is being able to confidently differentiate between the different types of dementia, and another is quickly identifying and reporting the most relevant imaging data for a specific patient. Both are time-consuming, are fraught with uncertainty, and can affect patient outcomes. That's why we continue to innovate the use of the AI capabilities in our platform to develop tools such as the Dementia Differential Analysis report and clinically focused reports for dementia, MS, TBI, and epilepsy — to provide easy-to-read, consistent, objective, and accurate data to support enhanced patient management.
Dementia Differential Analysis report: provide the insights clinicians need for a differential diagnosis.
Offering true differential diagnostic support for dementias, the Dementia Differential Analysis report uses MRI data only to derive the following disease-specific imaging biomarkers: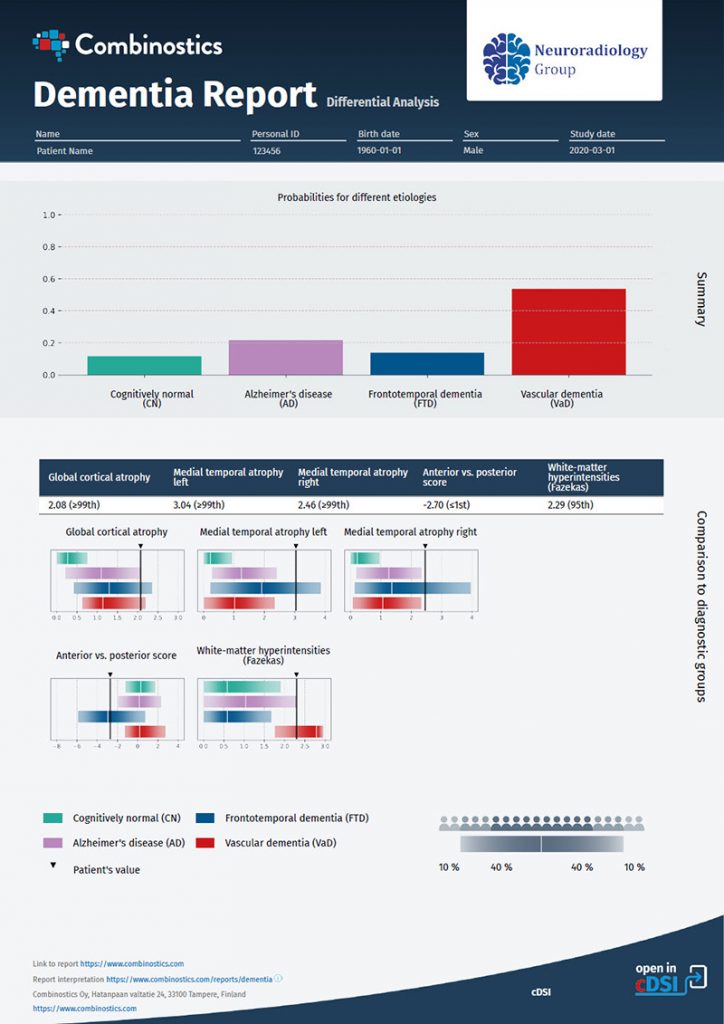 Going beyond comparison with cognitively normal reference data only, the biomarker results are compared against data from our data set of ~2,000 patients previously diagnosed with dementia to determine the likelihood of the following diagnoses:
Join our CEO, Richard Hausmann, for a presentation about how we differentiate dementias using imaging alone.
MRI Only Differentiation of Dementias: AI-enabled Diagnostic Trend to Enable Differentiation of Dementias With Imaging Alone
November 28 at 11:30 – 11:45 am CT in the AI Theatre
Current MRI quantification methods identify a deviation from a normal population pointing to dementias. We take a step forward and support detecting the underlying disease. This presentation examines how evaluating the similarity of the imaging biomarker values to data from different diagnostic groups (cognitively normal, Alzheimer's disease, frontotemporal dementia, and vascular dementia) can be utilized to provide indications of specific types of dementia from MRI imaging data alone. The novel report allows neuroradiologists to deliver a unique added value for neurology referrers.
Clinically focused reports: easily interpret our credible, AI-derived results.
Our new clinically focused reports for dementia, MS, TBI, and epilepsy present clinically relevant imaging information for each of the four conditions. Annotated images, quality control of MRI inputs, percentile graphs, and color coding of values that fall outside of the normal reference range provide transparency into our underlying processes as well as a quick and easy method of verifying and consolidating the results for each patient.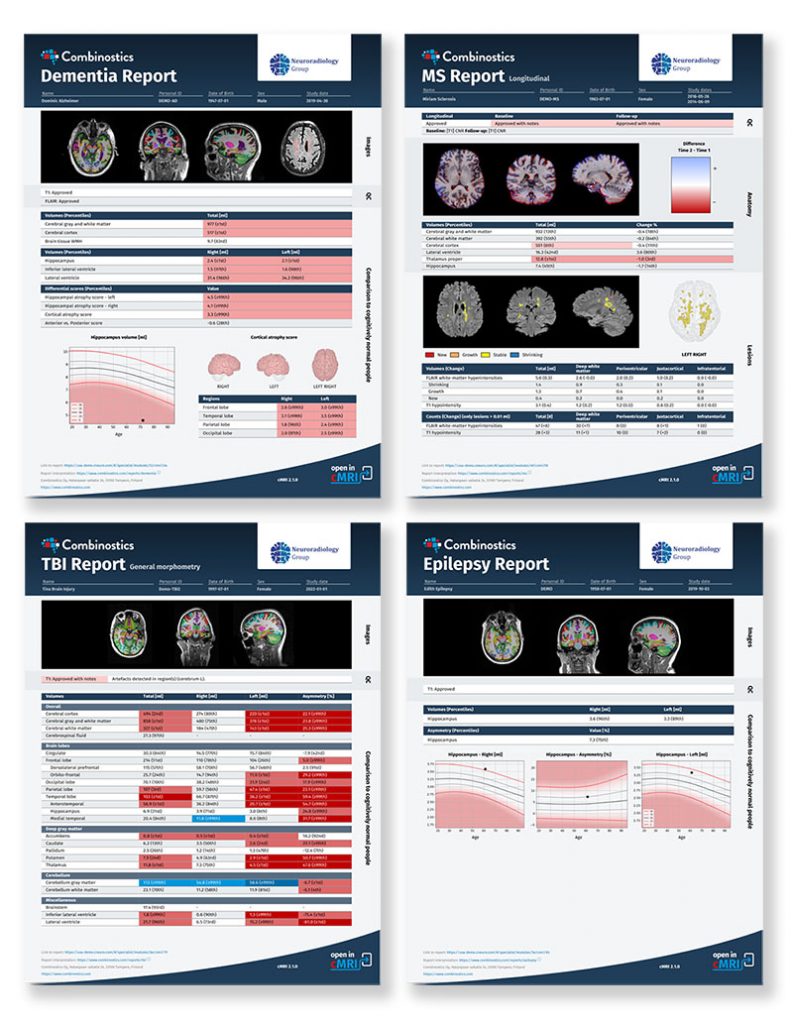 With these reports, radiologists can quickly understand the meaningful information for that patient and improve communication with referring neurologists.
Our solutions are integrated within a single platform to support end-to-end imaging workflows.
How do we accomplish these analyses and produce the results? Using technology backed by more than 50 peer-reviewed publications and collaborations with major academic institutions, our cloud-based platform seamlessly integrates the following solutions:
*WIP: not cleared for clinical use.
cMRI goes beyond MRI quantification to provide fully automated, objective quantification of disease-specific abnormalities and patterns from MRI images that are difficult to detect using visual assessments alone. As a result, cMRI ensures consistently high-quality reads, increases throughput by reducing the time spent per image read, and provides easy-to-read, clinically meaningful reports that can improve collaboration and communication with referring clinicians.
With cPET, you can go beyond anatomical imaging with precise quantification of FDG and amyloid PET scans compared with tracer-specific normative data. cPET also integrates cMRI segmentations when available, providing a more complete quantification of all brain regions including small structures such as the hippocampus.
Go beyond detection and volume measurement with cDSI. The cDSI application's proprietary machine learning method provides the analysis for the Dementia Differential Analysis report. The report visualizes the quantification and evaluation of patient MRI data against the distributions of key dementia-specific imaging biomarkers and reference data from patients with a confirmed neurodegenerative disease, including frontotemporal dementia, Alzheimer's disease, and vascular dementia. This provides radiologists and their neurology referrers with more objective data to assist with confident, accurate dementia diagnoses.
cARIA goes beyond detection only to the efficient detection, quantification, and monitoring of ARIA side effects for Alzheimer's disease treatments.
Where can you find us at RSNA 2022?
Want to know more? Our team will be at booth 3938 in the AI Showcase. Stop by for a demo of our solutions and reports, to learn how you and your referring neurology specialists can benefit from a more holistic approach to patient care, or to chat about the current state of radiology and imaging quantification. We'll also have a dedicated meeting room if you'd prefer a quiet space to discuss your needs and how our solutions could help address them.