Combinostics collaborates with the Alzheimer Center Amsterdam to extend cNeuro cDSI to support clinicians in decisions about whether a patient should have a lumbar puncture or not.
Publication: New computer tool supports physician in choice – Determine Alzheimer proteins or not?
An accurate diagnosis of Alzheimer's disease is important for proper treatment. Alzheimer's proteins in the brain fluid (protein markers) play an increasingly important role in this. But from whom should doctors take brain fluid and from which patient not? To facilitate this choice, researchers from Alzheimer Center Amsterdam, together with European colleagues, developed a computer tool. Hanneke Rhodius-Meester explains how the tool can support doctors in this difficult decision.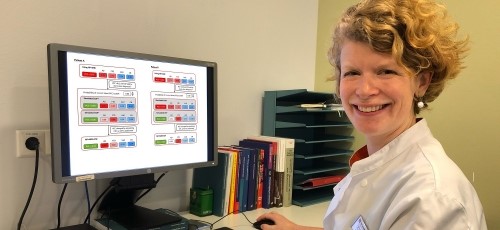 Hanneke Rhodius-Meester is a clinical geriatrician and researcher at the Alzheimer Center Amsterdam
Guidelines for when brain fluid should be taken are unclear
A timely and accurate diagnosis of Alzheimer's disease is important. And with the arrival of Alzheimer's proteins in the brain fluid, we can accurately determine the disease during life. The current guidelines therefore recommend the use of these protein markers in practice. However, these guidelines are global and difficult to translate into the daily work of memory clinics.
For which patient is it useful to determine Alzheimer's proteins? And to whom does it contribute nothing, so it is better to omit the lumbar puncture? This is a daily dilemma for doctors at the memory outpatient clinic. Why? Because determining the protein markers costs money and because an lumbar puncture is required to obtain the CSF. Moreover, the diagnosis is not always clearer by protein markers.
Tools that select the right patient are therefore needed. If doctors know in advance how Alzheimer's proteins can contribute to a specific patient, they can better determine whether brain fluid is useful. They can also better explain to the patient what the possible added value of the protein markers is. In this project the researchers used artificial intelligence to solve this problem.
The researchers used simulated protein marker values in the computer tool. By combining these with other diagnostic tests (brain scan and cognitive tests), the tool predicts which patient's protein markers improve the reliability of diagnosis and to whom they are not contributing. The protein markers appeared to have added value in a quarter of the patients. This computer tool allows the doctor to make informed decisions with the patient about whether or not to take brain fluid.
Article published in PLOS ONE
The results were published in PLOS ONE on January 15. The researchers developed the tool together with Combinostics, a company that develops software to assist doctors in the diagnosis of dementia.
The Alzheimer Center Amsterdam is at the international forefront of research into dementia. The center is constantly committed to improving diagnostics and treatment.
This collaboration project is co-funded by the PPP Allowance made available by Health-Holland, Top Sector Life Sciences & Health, to stimulate public-private partnerships. Additional financing has been obtained through contributions from health funds.